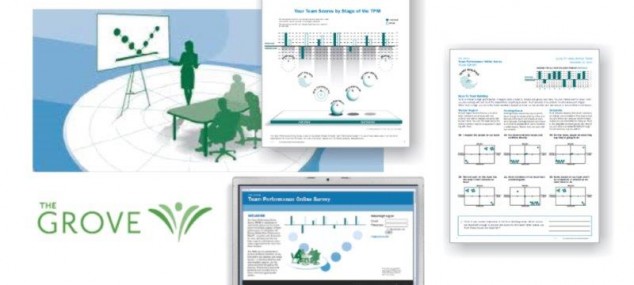 Boost your team's performance with The Grove Team Performance Online Survey™.
     •   Quickly pinpoint team strengths and opportunities for growth.
     •   Learn immediate steps you can take to get your team on-track.
     •   15 minute survey based on the Drexler/Sibbet Team Performance Model®.
     •   Use Performance Report findings to facilitate team development.
Team Leaders looking to energize workers can now quickly and reliably boost performance using The Grove Team Performance Online Survey™ (TPOS). The web-based survey provides a fast, effective way to gauge group dynamics and identify areas for improving the performance of work teams.
Team members complete a 15 minute web survey of ratings scale questions based on the widely acclaimed Drexler/Sibbet Team Performance Model®. Collective input is automatically analyzed against model benchmark data and compiled into a Team Performance Report detailing team strengths and opportunities for growth. Findings provide an unbiased assessment of group performance along with steps that can be taken to improve team effectiveness and facilitate focused development.
"The Grove Survey is the tool of choice for raising team performance," said John Crawford, Founder and Principal Consultant for The Timely Ideas Corporation, a Crescendo Services affiliate who uses the TPOS to help client teams diagnose gaps. "It is easy to administer, simple to complete and aligns directly with the Drexler/Sibbet model. The results are enlightening and provide concrete actions teams can follow to improve their performance."
The Grove TPOS is based on the Drexler/Sibbet Team Performance Model®, a system-wide framework for team development used in multinational, cross-sector organizations for more than three decades. Drexler/Sibbet Team Performance Model is a comprehensive model of team performance that shows the predictable stages involved in both creating and sustaining teams.
The survey is accessible from any location with Internet connectivity and results can be viewed on-line or in PDF. Crescendo Service member consultants are authorized distributors of The Grove TPOS survey tool.
"We're very excited to be able to offer the Grove Survey to our clients," said Crawford, adding, "It helps to greatly accelerate team development for a relatively small investment." Costs for administering the survey and generating the detailed performance reports are priced on a per person basis to scale with team size.
#  #  #
 ABOUT CRESCENDO
Crescendo Services  is a one-stop set of consulting resources from a consortium of experts who work together to meet pressing client needs. Tailored solutions draw from benchmarked practices and are delivered by proven, experienced practitioners. The full suite of integrated performance consulting services enables individuals, teams and organizations to "Rise to the Top".
ABOUT GROVE
The Grove Consultants International is a San Francisco-based consultancy and publisher, founded in 1977 by David Sibbet. The Grove has been recognized by the Organizational Development Network, an international association of organization-development practitioners, for their innovative work in this field. http://www.grove.com/